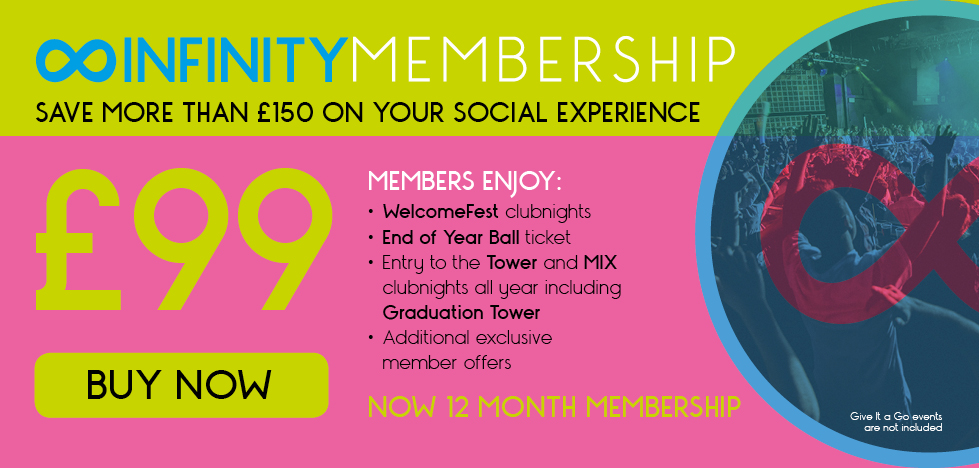 ---
Terms and Conditions Infinity Card:
Terms and Conditions Infinity membership:
1. The Infinity product provides free entry into all Welcomefest club nights, weekly Tower and Mix club nights, End of Year Ball and exclusive cardholder offers (excluding Give it a Go).
2. The Infinity product is valid for a whole 12 months from the date of purchase
3. Once purchased the Infinity membership cannot be transferred, exchanged, refunded or returned.
4. The Infinity product will only guarantee entry for the first hour of any valid event over the Welcomefest programme.
5. Where an Infinity e-ticket has been obtained fraudulently then Hull University Union has the right to cancel the Infinity product to that and all future events.
6. A valid Hull University student card must be presented along with your Infinity e-ticket at point of entry.
7. Artist and performer line ups are subject to change at any time without prior notice.
8. All licensed events are age 18+ Hull University Union operates a strict challenge 25 policy, all Student members who appear to be under the age of 25 will be required to show valid proof of age identification in the form of a passport, drivers licence or identity card bearing the PASS hologram.
9. Hull University Union reserves the right to:
a. Refuse admission for any reason.
b. Remove anyone who is in breach of discipline or contravention of the licensing objectives.
c. Place a temporary or permanent ban on any student member following a breach of discipline within our licensed premise.
10. No refunds will be issued as a result of clause 9.